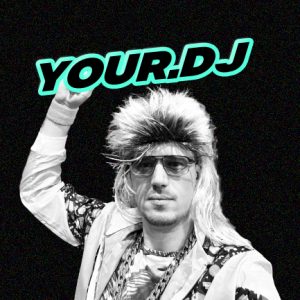 Welcome to yourDJ👋, where Eurodance still lives 🪩. I love music❤️ and love the 90s❤️. So I created your.dj👈. It came from a passion for music🔊. Every week I'm creating a new mix⬆️, upload it on YouTube🎬 and put it here🚀. So, firstly, I am happy about your visit🫵. Thanks for your support, all comments, subscriptions, and listens⭐️. I never expected such a reaction💪. It's absolutely awesome🤯.
Thanks and stay with the power of music🧨🎶
Bem-vindo ao yourDJ👋, onde a Eurodance ainda vive 🪩. Eu amo music❤️ e amo o 90s❤️. Por isso, criei seu.dj👈. Veio de uma paixão por music🔊. Toda semana eu estou criando um novo mix⬆️, carregue-o em YouTube🎬 e coloque-o here🚀. Portanto, em primeiro lugar, estou feliz com seu visit🫵. Obrigado por seu apoio, todos os comentários, assinaturas, e listens⭐️. Eu nunca esperei tal reaction💪. É absolutamente awesome🤯.
Obrigado e fique com o poder de music🧨🎶.
Eurodance 90's music was a golden era of electronic popmusic! This was a time when the boundaries between rap, techno, and rock were shattered in creating uplifting and energetic dance anthems. The most successful group from this decade include Amber, Cappella, 2 Unlimited, La Bouche, Dr. Alban and Scooter – who have become iconic party starters worldwide with their irresistible beats combined with memorable choruses that create an unforgettable atmosphere on any dancefloor. Eurodance 90's tracks are always associated with nostalgia: as soon as you hear them you can't help but smile and you'll be ready to groove all night long!
Oh, the 90s! What an amazing time in dance music history – from catchy Spice Girls and Backstreet Boys pop songs to the infectious beats of house, techno and trance dominating the dancefloors. So many unforgettable memories were made dancing to classic hits like "Sandstorm" by Darude and "Insomnia" by Faithless. The energy created was truly electrifying as each beat seemed to go on forever, inciting feelings of pure joy every single time. It was a thrilling era full of momentous music moments that no one will ever forget!
A DJ set mix is an art form all its own. It requires finding the right selection of songs and transitioning between them in a seamless, creative way. It's the skillful blending of vocals and beats to create energy and emotion on the dance floor. DJs dovetail tunes using a range of techniques such as double drops, beatmatching or mixing with plugins like wavestables, loopers and samplers. As each track carries a different weight so will a casual DJ set which relies on non-conventional techniques and interpretations along with riffs from other genres for unexpected texture, flavor and depth of sound. Casual dj sets are usually more relaxed when it comes to selecting tracks whilst trying out new things at the same time bringing fresh vibes to keep your audience engaged.
Playlist music is a convenient and cost-effective way for music lovers to access a broad selection of tracks. Playlists can be genre-specific, enabling users to search for music by specific style or artist, or may provide a taste of what's available overall in a particular platform. This variety of options allows listeners to curate their own personalized music collections that can be enjoyed almost anywhere and on any device. The simple process of creating playlists eliminates the hassle of downloading individual songs, which makes it especially ideal for businesses looking to source music quickly and cost effectively. When compared with other royalty free music services, playlist libraries offer more economical pricing models that can fit any budget type.